Meet Us
EMMAUS ROAD is a regional progressive and traditional southern gospel group that was formed in the spring of 2001 and is currently based out of Moncton New Brunswick. During the last 20 years this mixed group has volunteered their time and became "Weekend Road Warriors" singing to thousands of people all throughout the Maritimes provinces and Maine.  Even when the group was new on the scene, it was made up of veterans of Christian music in New Brunswick whose musical pedigrees included solo careers and stints in defunct groups ranging from the obscure to the legendary Gospelaires. The current members are from Moncton and Sussex New Brunswick. Steve Elliott and Darlene Perreault alternate between the lead and tenor parts. The original member Roger Corey fills in the baritone.  Emmaus Road recorded their debut CD "First Day In Heaven" in 2002. Their second CD; "Calvary Answers For Me" was released on March 20, 2004 and was voted "CD of the Year" by the New Brunswick Gospel Hall of Fame association and also received a 2005 ECMA gospel recording nomination. The CD "God Will Be There" contains some original material written by former lead singer Devin Cooke and was recorded in Nashville. The CD was released April 30, 2006 and received a 2007 ECMA gospel recording nomination as well as a Covenant Award nomination by the Canadian Gospel Music Association. Their latest CD  "Homecoming Day" was released on Aug 11th 2018. Emmaus Road received the N.B. Gospel Music Hall of Fame "MERCY AWARD" on Sept  22nd 2018 for lifetime contribution to Gospel music. The group may be coming to your community soon; you will be richly blessed by attending one of their concerts.
Roger Corey - Group leader. baritone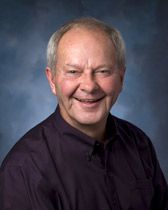 Roger was born in Woodstock N.B. and began his singing career in Sunday school and joined his first quartet at the age of 16 in Hartland N.B. He moved to Moncton at age 20 to begin his life long career of 38 years working with Canadas Air Traffic control provider NAV CANADA. Over the years since that first quartet, he has been involved almost continuously as a baritone with numerous singing groups including NBs own Gospelaires. Roger and his wife Judy who is the groups sound technician live at Magnetic Hill in Moncton. They have one son Matthew who is married to Rebekah McCormick, the daughter of one of the former Emmaus Road members Sherry McCormick. They have two grand children Nole and Penelope.  Roger and Judy attend the Moncton Wesleyan Church.
Darlene Perreault - Tenor singer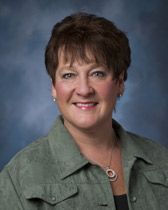 Darlene Perreault was born in Nova Scotia and is the daughter of Rev. Hazen and Norma Lee Ricker. From the time she could stand on the platform she has sung for the Lord. Hazen and Norma Lee as well as her two older brothers Graydon and Greg were all very musical. It was a natural that she would follow in their steps. "It has been a journey getting to where I am today", she says. "Many a trial has crossed my path but I believe in a God that always walks beside us and keeps us steady reminding us to keep our eyes on Him". For the past 30 years she has worked with children in some field of education. Presently, through a government program, she is working one on one, with children that have Autism Spectrum Disorder. Darlene and her husband Robert and two children Alex and Ashlee live in Apohaqui N.B. as well as a new grand baby, Brayden Alexander. "Life is wonderful!" she says, and now it is time for me to sing for the Lord to express my joy. Darlene says "I have always wanted to do this and in honor of my dad and my mom, whom passed away last fall, I feel my heart full with the desire to sing. Southern Gospel has been their favorite for years and may my mother sing along from heaven with me". Darlene and her family attend Sussex N.B Wesleyan Church.
Steve Elliott - Lead Singer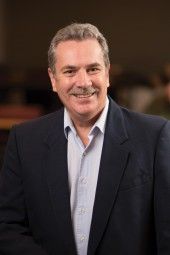 Steve Elliott hails from Belleville, Ontario.  He was raised in a strong Christian family, and began playing piano and singing southern gospel music at age 14. Since then he has sang with such notable and widely traveled groups as: "The Proverbs"  and "The Master's", along with a number of other quartets and trios in Ontario and  New Brunswick. Steve has been married to his high school sweetheart (Helen) for over 40 years, and they have 3 married children and 4 grandchildren.  He is an ordained minister and served as a pastor for 35 years. Steve and Helen live in Sussex, New Brunswick where he serves as the National Superintendent of the Wesleyan Church of Canada, and is also a member of the faculty at Kingswood University (formerly Bethany Bible College) where Dr. Elliott teaches Pastoral Ministries and Church Planting courses.
Emmaus Road Name - Where did it come from?
Shortly after the Christ's resurrection, two followers were traveling on the road to Emmaus when a man joined them and talked to them about the fulfillment of the scriptures in relation to the recent happenings in Jerusalem. Although these men were followers and should have recognized Jesus, they did not. When they reached their destination, it was getting late so they invited the stranger in to their home instead of allowing him to continue on alone without them. They still did not recognize Jesus until he blessed and broke the bread during the meal. We have chosen the name "Emmaus Road" because it is our desire that in some way our musical ministry will help people recognize Jesus Christ for who He is and hopefully ask him to come into their life as they journey down this present road of life. The two followers could have let Jesus continue on that night and not have invited him into their home. They would have never known it was Jesus beside them. In so doing they, like us would have missed the greatest blessing of their lives.